BenQ W2700i
Видеопроектор BenQ W2700i, DLP, 4K, 2000ANSI, 30000:1, Rec.709, DCI-P3 (95%), HDR-PRO, CinemaMaster Audio+2, CinemaMaster Video+, Smart Бял
Арт. номер: BENQ-PROJ-W2700i
безплатна доставка
на поръчки над 50 лв.
Технически характеристики
| | |
| --- | --- |
| Гаранция | 36 месеца |
| Яркост | 2000 ansi lm |
| Резолюция (native) | 3840x2160 |
| Контраст | 30 000:1 |
| Тип | Стандартен |
| Живот на лампата | 15000 часа |
| Технология | DLP |
| Формат | 16:9 |
| Цвят | Бял |
Видеопроектор BenQ W2700i, DLP, 4K, 2000ANSI, 30000:1, Rec.709, DCI-P3 (95%), HDR-PRO, CinemaMaster Audio+2, CinemaMaster Video+, Smart, Бял

Един проектор. Безкрайни забавления.
Независимо дали става дума за филми, предавания, спорт или телевизия, интелигентният BenQ прожектор, с Android, разполага с най-богатата библиотека за развлечения. Достъпът до Google Play, чрез удобния за потребителя интерфейс, гарантира безпроблемно забавление за всички. Сертифицираният от Google Android проектор W2700i запазва любимото ви съдържание и ви позволява лесен достъп до него. Открийте нови филми и игри или гледайте стари любими предавания с лекота и удобство. Насладете се на повече от 5000 от най-новите приложения за Android, филми, телевизионни предавания, спорт, новини, игри, музика и други. По всяко време и навсякъде на вашите устройства има нещо, което всеки харесва. Amazon Prime Video приложението ви дава достъп до ексклузивни оригинали на Amazon Prime и огромна колекция от 4K филми и предавания, само с натискането на един бутон. CinematicColor™ технологията използва оптимални цветове, за да пресъздаде точни и подобрени изображения. Супер широкото DCI-P3 цветното пространство, на CinematicColor, (покриващ далеч по-голям видим спектър от Rec.709), високия ANSI контраст и ISFccc сертифицираната калибрация, осигурява невероятно изображение, което да допълни удоволствието ви от професионалното домашно кино. Подобрявайки оптималните цветове за прецизно качество на картината, CinematicColor™ технологията на BenQ постига до 95% покритие на DCI-P3 цветовото пространство, покривайки много по-голям видим спектър от Rec. 709. С DCI-P3, W2700i перфектно възпроизвежда автентично кинематографично качество, с широка и прецизна цветова точност, точно както режисьорите са си го представяли.

Технология - DLP
Разделителна способност - 3840x2160
Яркост - 2000 лумена
Контраст - 30000:1
Android TV
Покритие на стандарт Rec.709 - 100%
Покритие на стандарт DCI-P3 - 95%
CinemaMaster Video +
CinemaMaster Audio+2
USB Media Reader
Коефициент на увеличение - 1.3:1
Лампа - 245W
Високоговорители - 2x5W
Живот на лампа - 4000/10000/15000 часа
Цвят - Бял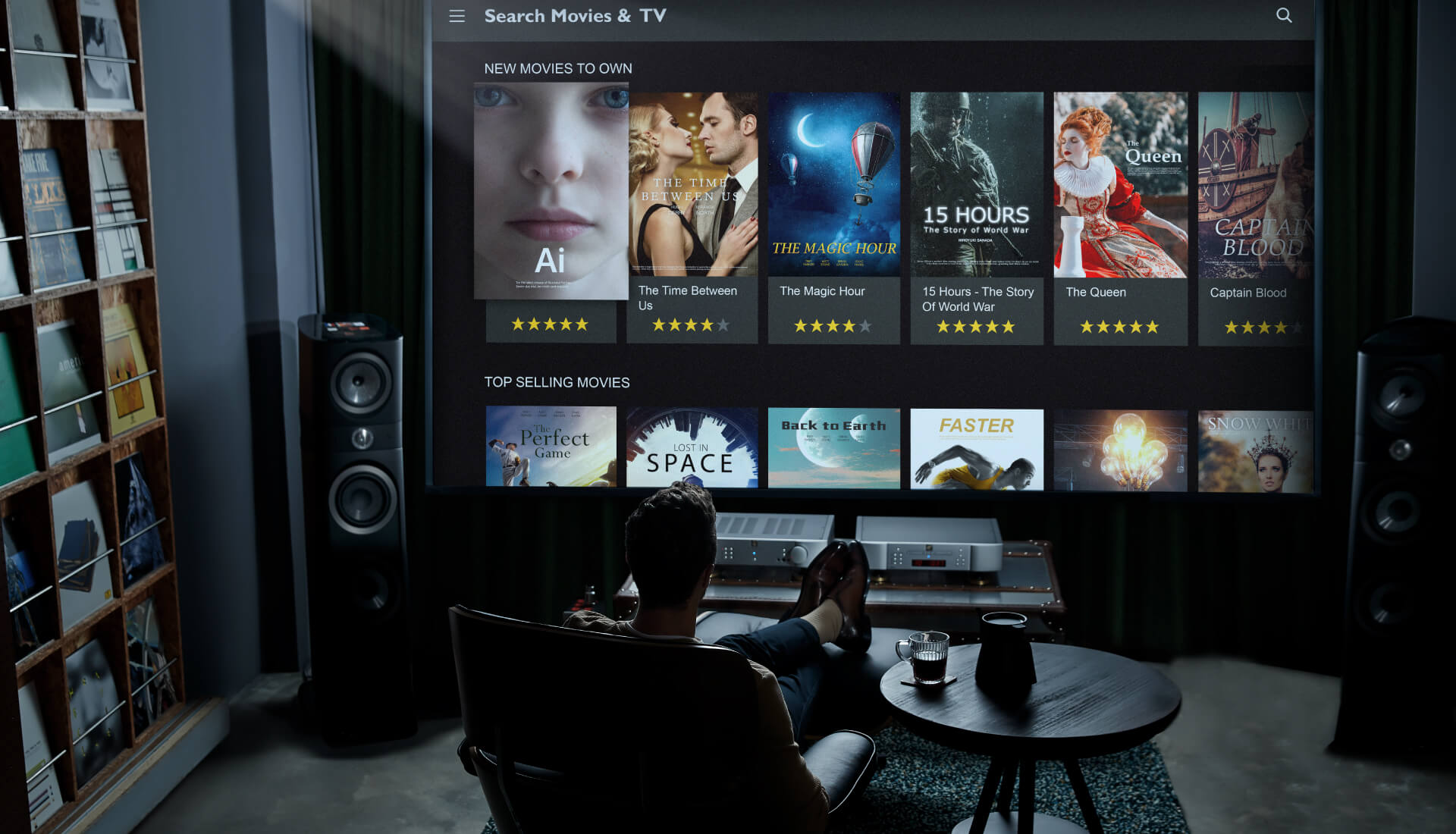 A Futuristic Cinematic Experience with Rich Movies & Content On-demand
The days of enjoying premium home cinema have just begun. The W2700i smart projector, the world's first true 4K home cinema projector with Google-certified Android TV, connects you to the Google Play Store with your favourite films, TV shows, games, and sporting events. The days of wires and connection worries are over.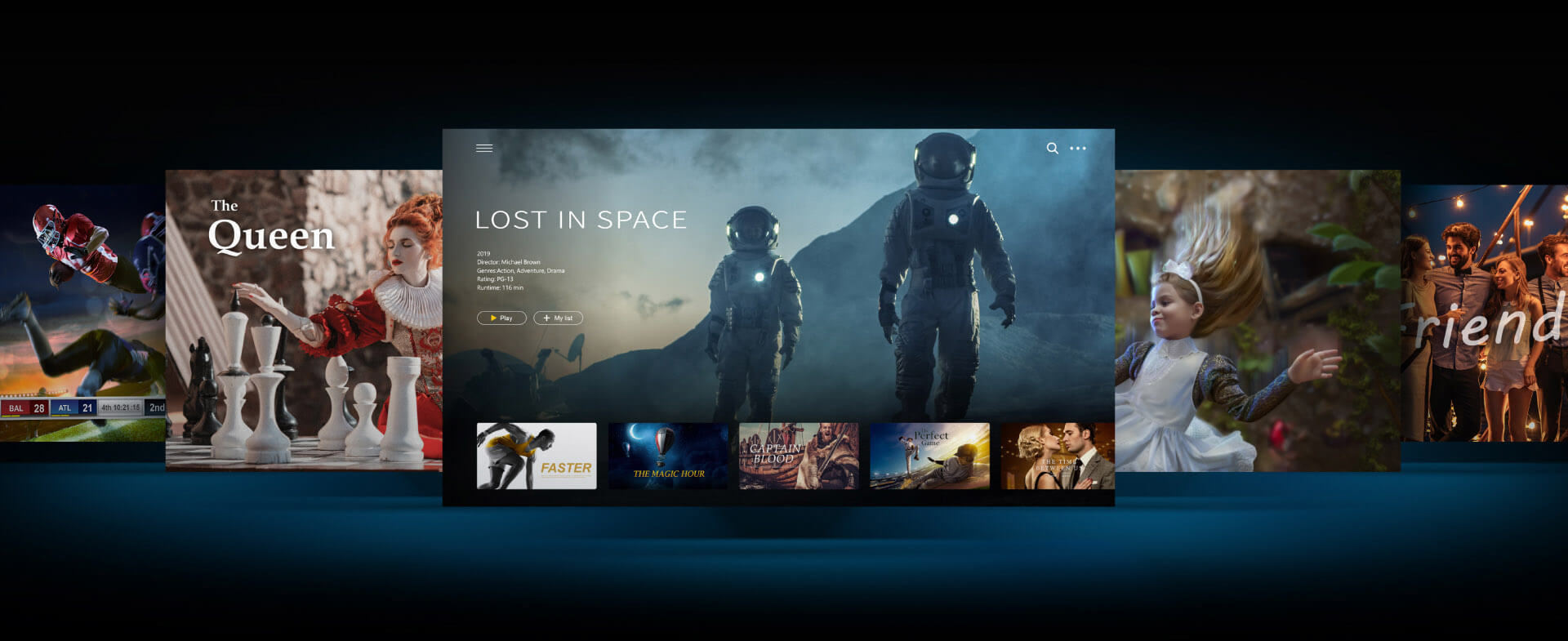 One Projector. Endless Entertainment.
Whether movies, shows, sports or live TV, the BenQ smart projector powered by Android has the most extensive entertainment library available. Access Google Play through the user-friendly interface for hassle-free fun for everyone.
One Google Account for Seamless Streaming Enjoyment
The W2700i Google-certified Android projector keeps your favorite content front and center, and easy to access. Find your next binge or revisit an old favorite with ease and convenience.
5,000+ of Google Play's Latest Apps
Enjoy 5,000+ of the latest Android apps, movies, TV shows, live sports, news, games, music, and more. Anytime, anywhere, across your devices, there's something here for everyone to love.
Amazon Prime Video Originals
One-button app access to exclusive Amazon Prime originals and a huge collection of 4K movies and shows.
Please cast Netflix content via your laptop's Google Chrome Browser or connect through an HDMI cable.
1.Use a laptop (Windows/Chrome/MacOS) to cast wirelessly
Make sure both the projector and laptop are connected to the same wireless network. Cast via the Google Chrome browser: Visit the Netflix website → Select "Cast Desktop"→ Choose "Android TV dongle QS01"→ Select the screen Netflix.com is on→ Watch Netflix content on your projector.
2.Use an HDMI cable
Stream content via an HDMI cable by connecting to an HDMI 2.0 (HDCP 2.2) port.
CinematicColor™ for Colours as Directors Envisioned

CinematicColor™ technology utilizes optimal colours to bring out accurate and enhanced images. CinematicColor's super wide DCI-P3 colour space (covering far greater visible spectrum than Rec. 709), high native ANSI contrast ratio and ISFccc certified calibration ensure incredible image performances and deliver detailed, sharp and crisp visuals to accompany your pro cinema enjoyment.
Super-Wide DCI-P3 CinematicColor™
Enhancing the smart projector's optimal colours for precise picture quality, BenQ CinematicColor™ technology reaches up to 95% of the super wide DCI-P3 colour space, covering a far greater visible spectrum than Rec. 709. With DCI-P3, the W2700i perfectly reproduces authentic cinematic quality with wide and precise colour accuracy in line with how the directors originally envisioned it.

Enhanced Colour Mapping Realism
BenQ DCI-P3 CinematicColor™ technology's enhanced colour mapping unleashes breath taking visuals with lifelike colours automatically tuned to reflect natural hues when viewing DCI-P3 4K Blu-ray movies.
Factory Calibrated Out-of-the-Box Colour Accuracy
Enjoy the colour accurate performance immediately. The W2700i guarantees 100% Rec.709 coverage with Delta E<3*. Each projector is factory tested and adjusted for D65 colour temperature, gamma, black level, white level, neutral grey, RGBCMY colour tracking, hue, saturation, brightness and output based on ITU-R Rec.709. All data is then compiled in an individual factory calibration report.
*Delta E quantifies the difference between a reference colour and the projector's actual colour based on L*a*b* coordinates to represent "a difference in sensation." Delta E<3 performance means virtually no perceptible colour difference to the human eye. (Delta E<3 performance is enabled in D. Cinema mode.)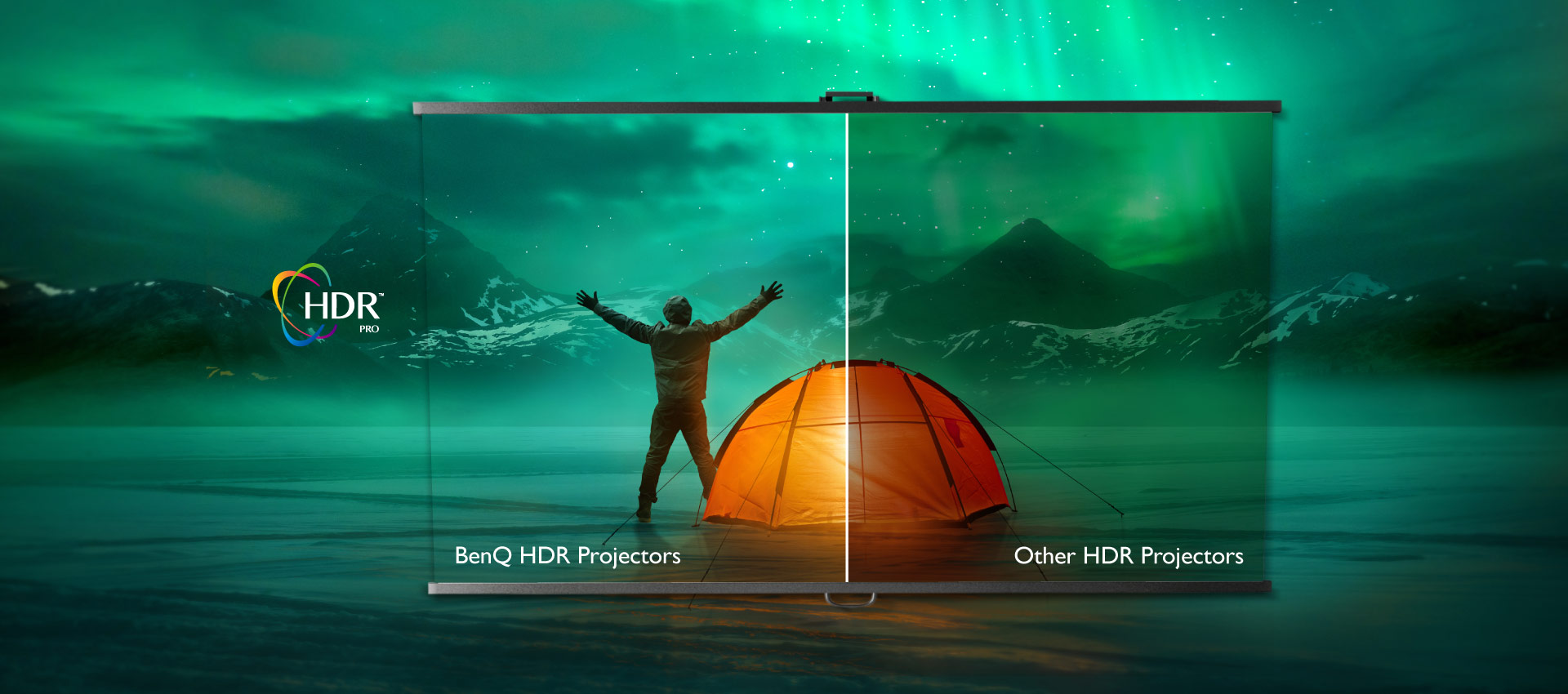 Hyper-Realistic HDR-PROTM Video Quality
Optimized for projection, the BenQ exclusive HDR-PRO technology enhances the 4K HDR content with greater contrast range through enhanced tone mapping for extraordinary detail from 4K Blu-rays and streaming content.
Enhanced Tone Mapping
Cinema-Optimized Tone Mapping with Dynamic Iris* and Dynamic Black technology addresses common HDR projector detail and greyscale issues with improved contrast and detailed display.
* The Dynamic Iris controls the amount of light through the optical system for ideal contrast. Dynamic Black™ analyses a scene's brightness levels to optimize light output and contrast. This brings out subtle details in shadows and prevents washout in bright scenes.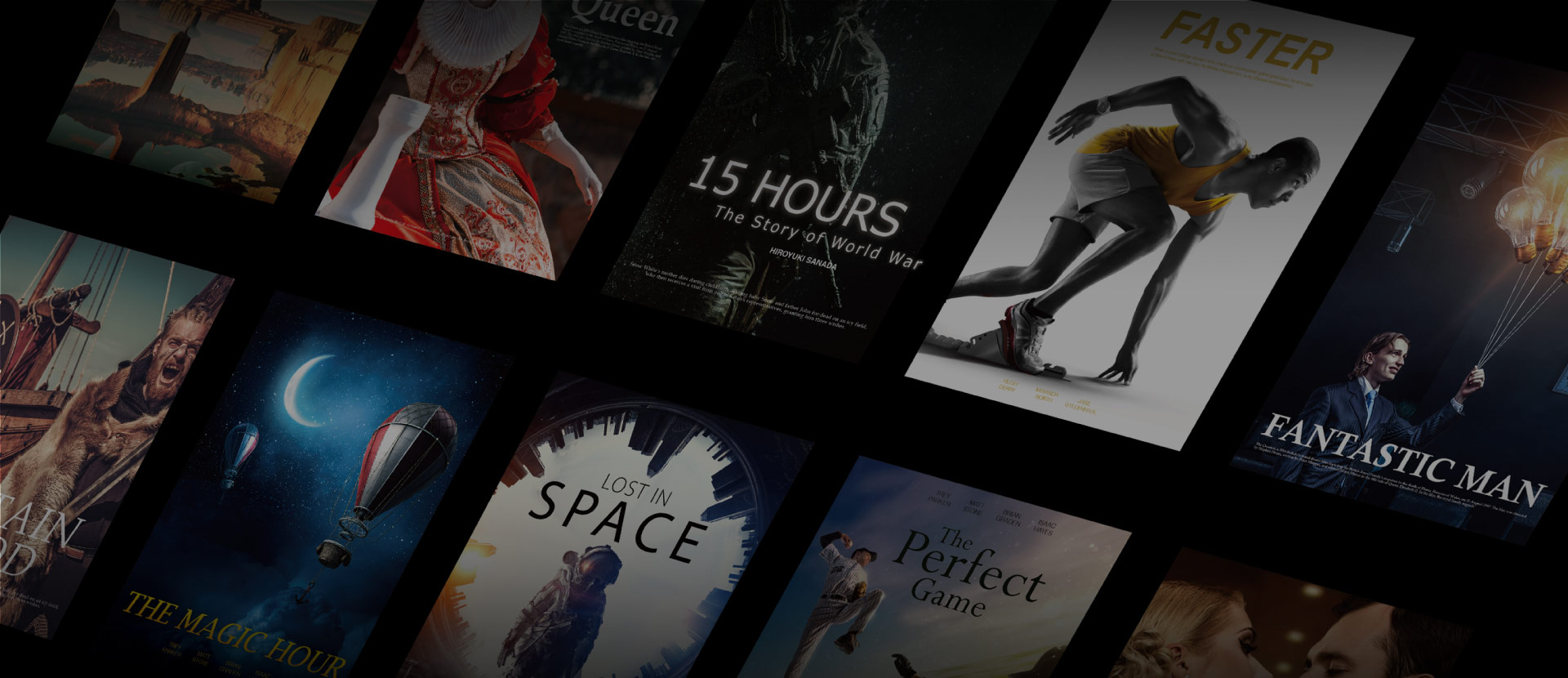 Supercharged by HDR10 & HLG
BenQ's HDR-PROTM technology is supercharged by HDR10 & HLG (Hybrid Log-Gamma) support. Observe spectacular visuals whether you're blasting through a Blu-ray movie, or streaming a nail-biting sports match.
* HLG is a high dynamic range (HDR) standard that was developed by the BBC and NHK. It is supported by video services such as the BBC iPlayer, DirecTV, Freeview Play, and YouTube.
Designed for Refined Viewing
To achieve a fully personalized cinematic atmosphere, the W2700i projector provides optimized movie modes tailored for home cinema and film-like motion as the directors intended.
Big-Screen Movie Experiences for Living Rooms
Authentic Cinema Reproduction for Dark Rooms
D.Cinema Mode
Wide-ranging colours and subtle details in movies utilizing 100% of the Rec.709 colour gamut, showcasing the finest SDR content in a comfortable AV room environment.
HDR Mode
(Wide Colour Gamut Enabled)
View 4K HDR Blu-ray movies and stream HLG content in the highest dynamic contrast and true colour reproduction with HDR-PRO technology and DCI-P3 colour gamut (up to 95% DCI-P3 colour coverage).
Bring the Theater to Your Living Room
Cinema Mode
Heightened brightness to reproduce Rec. 709 colour accuracy for enjoying SDR movies in higher ambient brightness.
HDR Mode
Expanded brightness for natural details in 4K HDR Blu-rays and HLG streaming content in Rec. 709 with HDR-PRO technology in bright rooms.
True 4K 8.3 Million Pixel Perfection
The stunning 4K UHD (Ultra-HD) 3840x2160 resolution is four times the pixel count of 1080p FHD (full HD). With 8.3 million distinct pixels for each frame, the W2700i minimizes blur and displays crisp, clear video. Additionally, the projector with the new generation 0.47" single-DMD DLP technology (chip) showcases a sleek, modern design to complement your viewing space.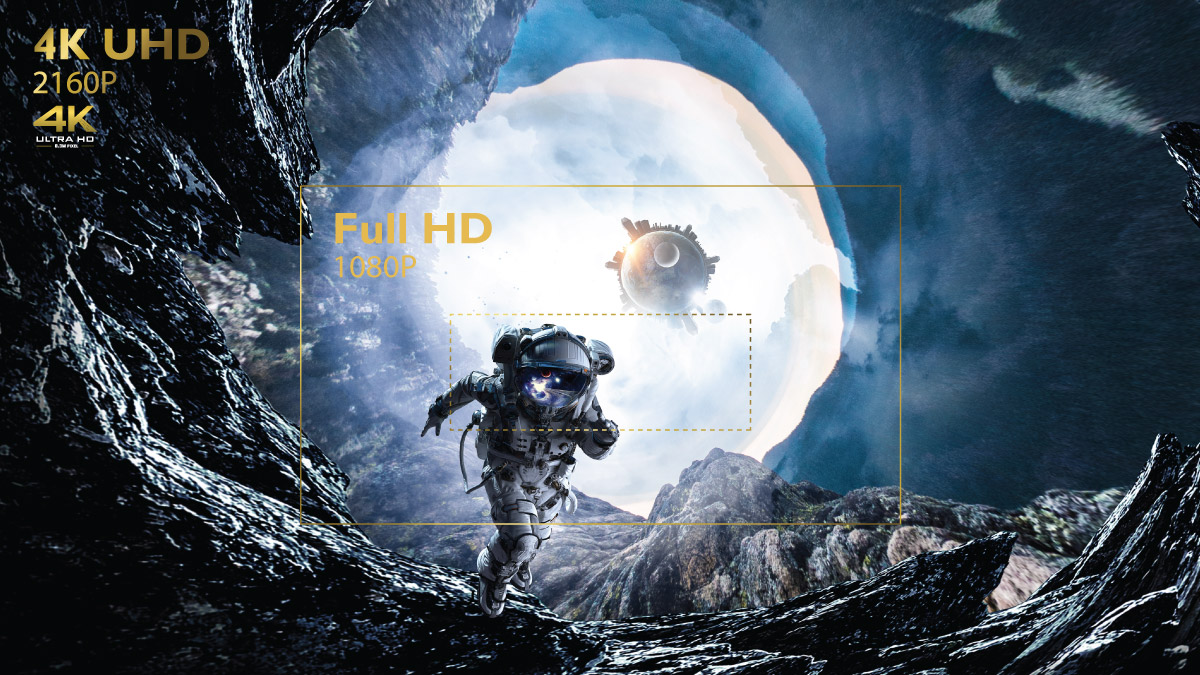 Precision 10-Element All Glass 4K-optimized Lens Array
The 4K optical system uses the highest quality glass for superior display. The precision 10-element 8-group lens array allows greater light penetration for long-lasting 4K intensity with heart-stopping colour performance, clarity, and sharpness across the entire screen.

Accurate Colour and Image Integrity
The W2700i ensures immaculate image integrity and colour accuracy with the single DMD DLP technology from Texas Instruments, avoiding the alignment issues in multiple panel technology. The W2700i generates razor-sharp images and accurate colours devoid of artefacts such as blur, shadowing, and interference patterns.
Flawless Optics for Superb Image Quality
The BenQ 4K optical system uses only the highest grade glass for superior light penetration and realistic image quality. The proprietary low-dispersion lens coatings minimize chromatic aberration so your favorite 4K UHD content comes through brilliantly.
CinemaMaster Video+ for Majestic Scenes
CinemaMaster™ Video+ turns any room into a world-class home theater with video-enhancing technologies sure to please even the most critical movie enthusiasts.
4K Pixel Enhancer
Pixel Enhancer detects changes in colour between an object and its background. It then enhances sharp edges and precise surface textures through motion-adaptive technology.
Motion Enhancer
Motion Enhancer eliminates laggy images, jittery playback, and blurry shadows by inserting 36 interpolated frames for seamless 60 frames-per-second video.
Colour Enhancer
Colour Enhancer modulates complex colour algorithms to flawlessly render saturated colours, fine gradients, intermediate hues, and subtle pigments.
Flesh Tone
Colour Enhancer modulates complex colour algorithms to flawlessly render saturated colours, fine gradients, intermediate hues, and subtle pigments.
CinemaMaster Audio+ 2 for Massive Sound
The BenQ CinemaMaster Audio+ 2 audio-enhancing technology from 10W chambered stereo audio speakers utilizes exclusive EQ algorithms for pure clarity and indulgent sound quality as used by Hollywood studios.
Perfect Sound Modes to Fit Any Occasion
Custom-tuned sound modes adjust audio characteristics to deliver ideal audio-visual experiences for any type of entertainment, as if you were there for real.
Immersive bass and high-frequency performance for authentic real-world cinema presence.
Powerful bass and crisp highs ensuring heart-pounding excitement during intense gameplay.
Smoothly balanced performance for immersive live reproduction of music and concerts.
Enhanced mid-frequency and vocals jumping right into sports action without missing any details from the announcers.
EQ algorithms can be individually customized to maximize the rich bass and crisp highs immersing you in total entertainment.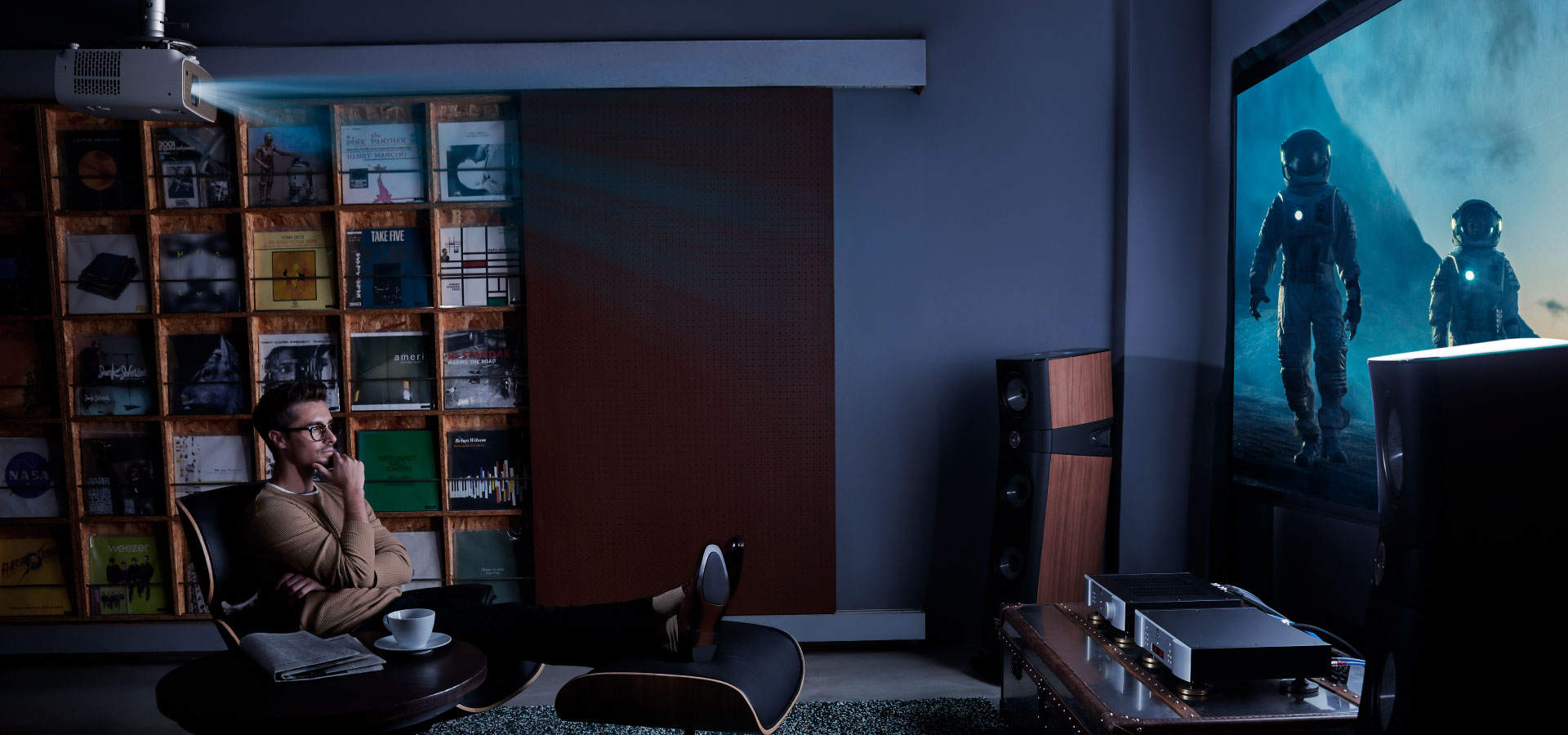 Flexible Adjustment for Screen Alignment
The W2700i's lightweight design and sleek, compact profile feature beautiful aesthetics and intuitive functionality. Powerful short throw, 1.3x zoom with vertical lens shift, and hassle-free installation deliver cinematic wonder in any space.
Hassle-free Integrated Zoom Adjustment
The W2700i projector zoom system automatically adjusts to follow focus adjustments, regardless of screen size. Optimizing the zoom ratio results in visually perfect focus, without blemish, for high-precision clarity across the entire image.
Easy 4K Upgrade* from a BenQ 1080p Projector
The W2700i offers a 10% vertical lens shift to fit perfectly into any room with varied projection distances and heights. Additionally the 1.3X big zoom offers a wide range of throw distances for installation flexibility with diverse mounting and placement options. It's easy to upgrade from an existing 1080p BenQ projector to the W2700i 4K projector using the same ceiling mount without the need to recalculate screen size and throw distance.
*Easy 4K upgrade apply to the BenQ W1070, W1090, W1110 and W2000 projectors.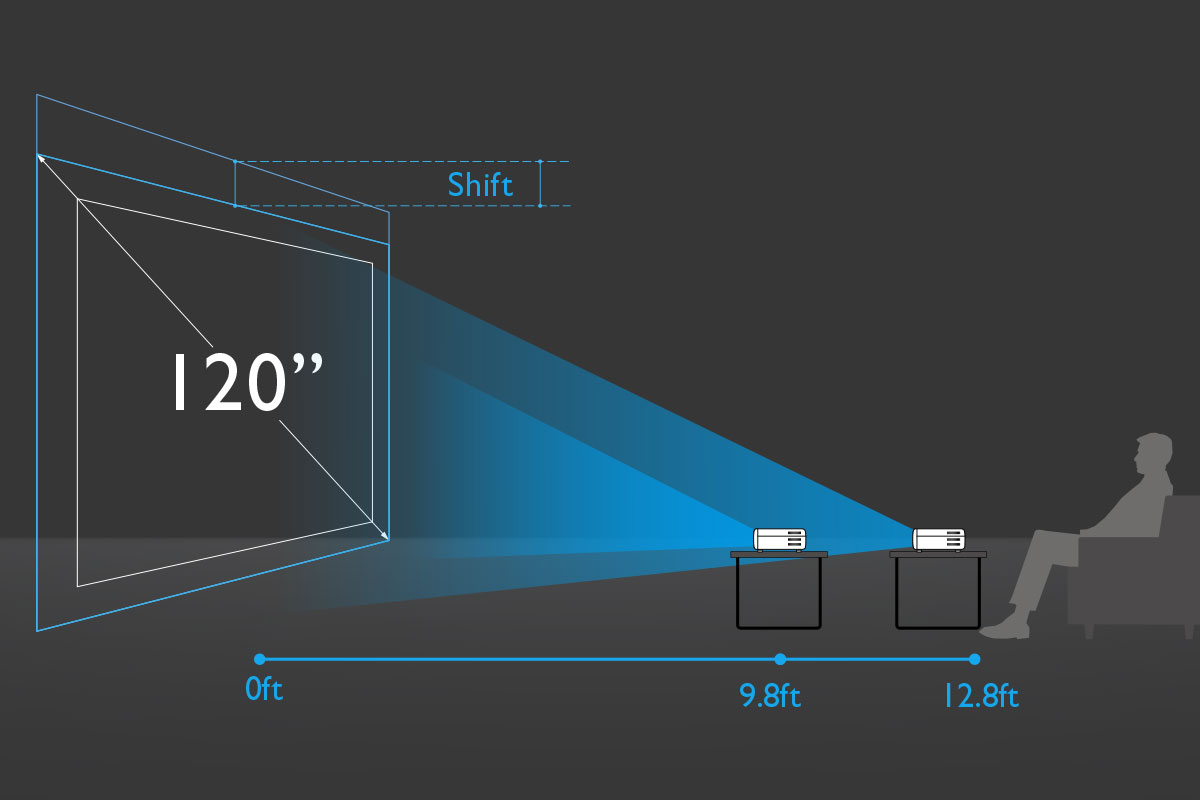 Throw Distance Calculator
Auto Vertical Keystone for Easy Setup with Perfect Alignment
Countering the trapezoid effect when the projector has to be placed off-centre, the vertical keystone function adjusts the image for a professionally squared image. Keystone correction makes it easy to project ideally aligned images from a variety of locations.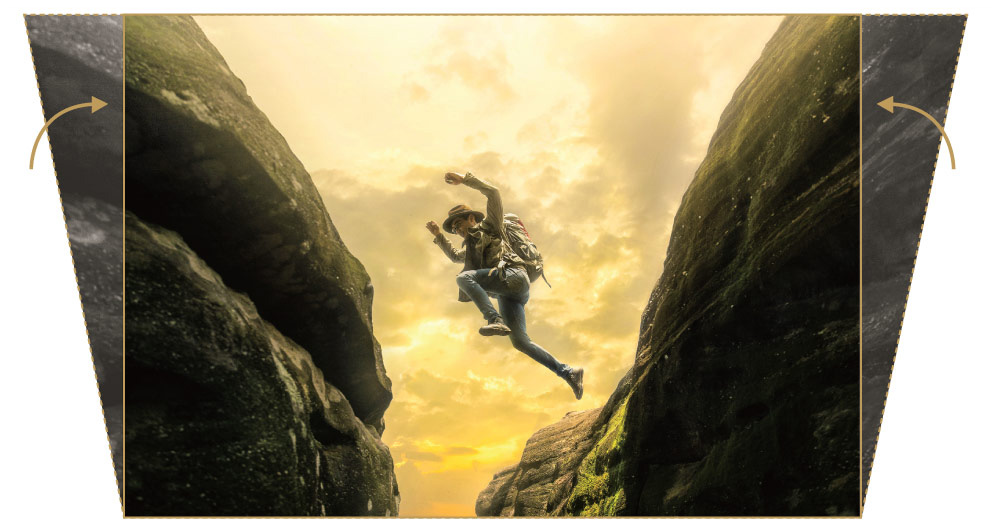 USB Type-A 3.0 Port for Fast Transfer
USB Type-A 3.0 can transfer data at up to 5 Gbit/s, about 10 times faster than the USB 2.0 standard.
USB Media Reader for Play-back without Cables
Easily project content directly from removable disks without the need for a cable. Supported files include video, audio, and pictures.
Effortless Firmware Upgrades
The W2700i's USB upgrade capability keeps it operating at peak efficiency with the latest firmware for simple operation and effortless maintenance.